12 Days of Christmas
Support your libraries!
Come to the main (Broadway) branch of the library during the first 12 days of December to bid on wonderful gift baskets.
All the money raised from this silent auction goes to the library so they can buy books.
If you are interested in donating a basket full of items to the IODE 12 Days of Christmas silent auction, please contact us.
Since 2005, we have raised over $4,600.00 for our local libraries through this program.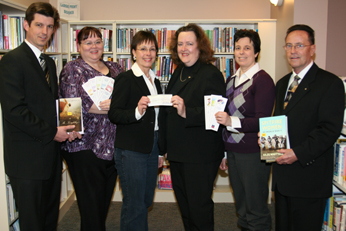 Photo courtesy Snap Dufferin.
In the picture, our chapter president is presenting a cheque for $750.00 to Library Board Chair Darla Fraser. The money was raised in our fourth annual Twelve Days of Christmas holiday basket silent auction. Also in the picture are our literacy outreach bookmarks held by Caitlin and Megan. These bookmarks are distributed for free through the libraries, book stores and schools in Orangeville. From left to right in the picture: Todd Taylor, Caitlin Smith (IODE), Library Board Chair Darla Fraser, IODE President Nancy Lea Bennett, Megan McLaurin (IODE) and Jim Fleming.